This is my page for sharing news articles from other sources that may be of interest. Most of them are UK based but some are international; all focusing on interesting, informative topics! From farming and the environment to food and climate change! Newest articles are first and all are from sources that I trust and respect which present information that even if bias, I would rely upon to be true. Click the links to read the full articles!
Lyon (AFP) - A 12-year-old judicial battle pitting a cereal farmer against Monsanto, the biotech giant, goes to a fourth round Wednesday before the French courts.
Farmer Paul Francois won his initial case in 2012, and its appeal by Monsanto in 2015, after
suing
the US firm for poisoning him through inhalation of its Lasso weedkiller.
Read More Here.


Namibia has designated about 20 percent of its area as 82 communal conservancies run by local communities. Of these, about two-thirds have hunting rights. They retain a portion of their allocated quota to hunt for food for the local community, and sell a portion to professional hunters, who in turn bring in trophy hunters. Click Here to read more.
Antimicrobials used to treat diseases that can be transmitted between animals and humans are becoming less effective.
The findings are in a new report released by the European Centre for Disease Prevention and Control (ECDC) and the European Food Safety Authority (EFSA).
Click Here to read more.
A recent study from Chalmers University has suggested that 'organically farmed food has a bigger climate impact than conventionally farmed food, due to the greater areas of land required'. The study is simplistic at best and inaccurate at worst. Click Here to read the full article.
Huge pressure for low prices and uniformity, alongside bureaucracy, has seen the close of many local butchers and abattoirs. Tim Field considers how the current situation could be improved – for the farmers, high street and consumers' gain. Read more HERE.
Leading environmentalists have today (26 February) pledged to champion and promote the Year of Green Action.
Environment Secretary Michael Gove has welcomed UN Patron of the Oceans and endurance swimmer Lewis Pugh, environmentalist David de Rothschild and TV presenter Jan Leeming, who will all help to educate and inspire the next generation of environmental leaders. Read More HERE.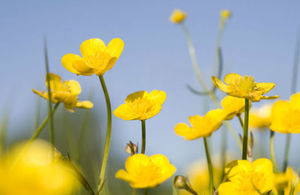 Sheep farmers have urged the National Trust to use wool as an alternative to its synthetic fleeces which are worn by its 10,000 employees.
The charity, which protects more than 248,000 hectares of land, is currently seeking material alternatives for its fleeces as concerns rise over synthetics and their harm to the environment.
Such material sheds hundreds of thousands of plastic microfibres every time they are washed, often ending up in waterways and harming wildlife. Read More
HERE.